I've been watching the CA user statistics over the past few months and noting a steady decline, losing what looks like about 2 - 300,000 active players a month. Castle Age is now the 93d most popular game, right under 'Icy Towers' and 'FARKLE'. ...what the hell is FARKLE?
http://statistics.allfacebook.com/ap...6755028429/MAU
Is this a normal thing for CA? I know the school year starts and numbers go down...ect, add other factors...but the rate at which the player numbers have been dropping and for a long enough time now, seems to be more than that. Why else would the devs be coming up with the 'Crusaders of CA' Members area, Festival, special promotions and such...
- What I'd like to know is ...where it all went so wrong?
- What do you think needs to be done to bring back the player base?
Personally, I think it's because the dev's are pushing this whole Guild Battles thing down our throats (which has glitches enough to make Windows Vista seem almost bearable) and forgetting to satisfy the majority of players on CA who aren't bottomless CC's. The game does not reward the lower levels as it should to keep people playing and there are so many little way's to make CA better which the dev's just seem to ignore. Not only is the game becoming too intensive (time consuming), but the rewards just aren't worth it.
There needs to be higher player slots for monster lvl's 300+ (gets rid of taggers), harder monsters for players lvl 500 + (because lets face it, higher players get bored too and people get annoyed when super high players have nothing better to do than come in and obliterate your monster for you), a 'complete' set of monster achievements (with better rewards) i.e. why the hell should killing 25 Hydras give you 25 FP's and killing Genesis 25 times only gives you 5 FP's? Something needs to be done about the ever increasing page scroll (drop down menus would be nice) and general player interface making CA cluttered and seemingly disorganized. Also, Arena III was a complete fail...pretty sure that didn't help.
Another point. Facebook - which is a continually evolving social site and will live on for as long as there is a need for it (or are computer geeks) left on the planet - which there will always be. CA evolves too, but the difference is people may find CA would be more enjoyable if they spent money on it. Facebook itself works fine and is free anyway! Ultimately, if the devs begin pushing players into buying heaps of stuff (i.e. increasing need for FP refills), even greed has its limits and players will begin to feel cheated. So go the numbers.
That's just my 2 cents...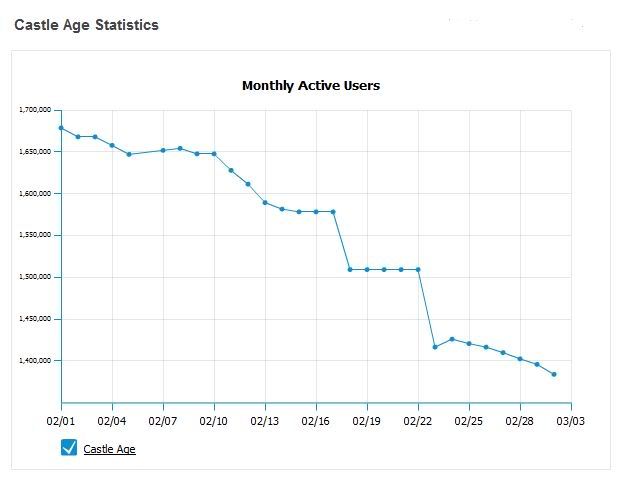 ...looking mighty steep.